Ardgour lies southwest of Fort William by the Corran ferry. It is a friendly crofting community set in a remote mountainous area dotted with lochs, teeming with wildlife. Easy to reach, this is still one of the last wildernesses in Scotland.
Access to Ardgour is across Loch Linnhe on the Corran Ferry. This is the ancient trade route to the Inner Hebrides, The original Road to the Isles and your gateway to the empty places for which the Scottish Highlands are famous. For more imformation on this and other routes to Ardgour click on the Location and Routes link above, or simply click on the picture of the ferry above.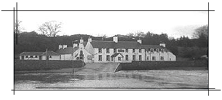 Corran Ferry transports passengers and vehicles across the narrows, arriving at the Ardgour slipway after a four minutes journey. At the top of the ferry slipway lies one of the Highland's oldest inns. Travellers have been made welcome here for over six hundred years. The Inn At Ardgour...

Arriving in Ardgour the visitor is immediately struck by the peace and tranquility of the area. The Corran lighthouse is on your left and off to the right the road leads to Ardgour Church and a walk through the estate which brings you back to your starting

point in less than an hour. You can read further about the Ardgour Estate walk. If you are staying a while then visit one of these sites for more walks near Ardgour - Walk on the wild side and Walks near Ardgour.
Stop a moment and share the view from The Inn, framed by the Ardgour Hills and Mamore Mountains it was familiar to Saint Columba and leads the eye to Corpach where ancient Scottish and Norse kings boarded their black-sailed funeral galley for their last voyage to Iona. Two ferries provide the service across the narrows; the one in this photograph is moored while its companion is working.

For centuries the people of Ardgour have spred across the globe. Some as a result of events whose memory lingers on, like The '45 or the Highland Clearances. More, probably, as part of the inexorable journey of the young to seek fresh pastures and new challenges. If you are one of these hardy souls or one of your ancestors came from Ardgour leave a message in The Exiles or e-mail us. Tell us what you know about Ardgour's exiled sons and daughters and if you can link us to a relevant site so much the better.
Clan Maclean and the story of the Maclean takeover of Ardgour
You may also browse the Ardgour-related Links page, where there is more links to Ardgour-related sites.

This is a community resource. If you have a web site regarding Ardgour, you may send us the URL and we will add it to Ardgour.Com. This site is regularly updated. Visit again soon to find out what is happening in Ardgour.